SINGAPORE, Apr 18, 2023 – (ACN Newswire via SEAPRWire.com) – The second annual InsureTech Connect Asia will take place in Singapore from May 30 to June 1, 2023, where insurance industry leaders, professionals, and InsurTech providers from across Asia and beyond will convene to share their successes, strategies, and plans for the future of insurance.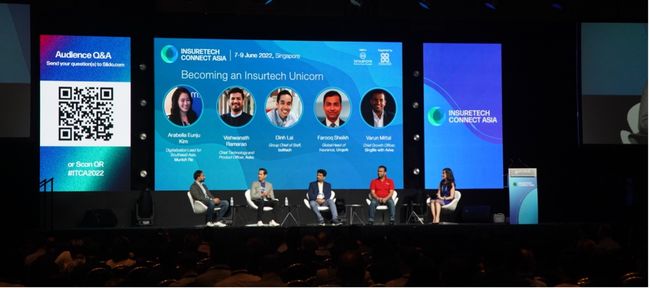 The event will kick off with an opening keynote by Sopnendu Mohanty, Chief Fintech Officer at the Monetary Authority of Singapore (MAS). Mr. Mohanty will share his vision of the future of fintech and its impact on the insurance industry. Following the opening keynote, there will be a keynote panel on "Developing a Future Proofed Workforce." The panel will be moderated by Simon Phipps, and will feature Peta Latimer, CEO of Mercer Singapore, Clemens Philippi, CEO Asia of MSIG, and Rishi Srivastava, CEO – Group Agency Distribution of AIA. The panelists will discuss how to develop a workforce that is equipped to tackle the challenges of a rapidly evolving industry.
They will be joined by over 200 leaders representing insurance companies, investors and InsurTechs across Asia sharing their insights as they take the stage with interactive panel discussions over the three days.
Alongside the conference, over 100 InsurTech solution providers, including Income, Aon, Munich Re, Swiss Re and more will be on-floor to showcase how they are transforming the insurance industry in Asia. Additionally, the exhibition will also witness InsurTech startups across the region compete in the ITC Asia Awards finals and the Pitch Competition hosted by Lloyd's Labs.
"We are thrilled to have such esteemed experts and executives from the insurance world joining us for this event," said Tricia Wong, Director of InsureTech Connect Asia. "Their insights and experiences will provide attendees with a comprehensive understanding of the key issues and opportunities facing the industry, and how to prepare for the future."
InsureTech Connect Asia 2023 will take place at Sands Expo & Convention Centre, Singapore from 30 May to 1 June 2023. For more information on InsureTech Connect Asia, please visit https://bit.ly/itcasia23
InsureTech Connect Asia 2023
Date: 30 May – 1 June 2023
Conference opening hours:
Exhibition opening hours
Sands Expo & Convention Centre, Singapore
About InsureTech Connect
InsureTech Connect (ITC) is the world's largest insurtech event, offering unparalleled access to the largest and most comprehensive gathering of tech entrepreneurs, investors, and insurance industry executives from across the globe. ITC has been attended by over 25,000 people from 65+ countries. Founded in 2016, ITC has established itself as the biggest insurtech event in its US location in Vegas and has launched a new venture in APAC with ITC Asia in Singapore. ITC Asia will be held 30 May – 1 June 2023 at Sands Expo & Convention Centre, Marina Bay Sands. ITC is also the leading source of insurtech webinars, knowledge and meetings.
For more information, please visit https://bit.ly/itcasia23
Copyright 2023 ACN Newswire. All rights reserved. (via SEAPRWire)