Singapore, Sep 4, 2023 – (ACN Newswire via SEAPRWire.com) – The iconic duo, Colonial Cousins, consisting of the legendary playback singer Hariharan and the versatile musician Leslee Lewis, cast a spell on the audience at the prestigious Esplanade Theatre in Singapore on the evening of September 1, 2023. The highly anticipated event, presented by Teamwork Arts, proved to be an unforgettable evening filled with soulful music and electrifying performances.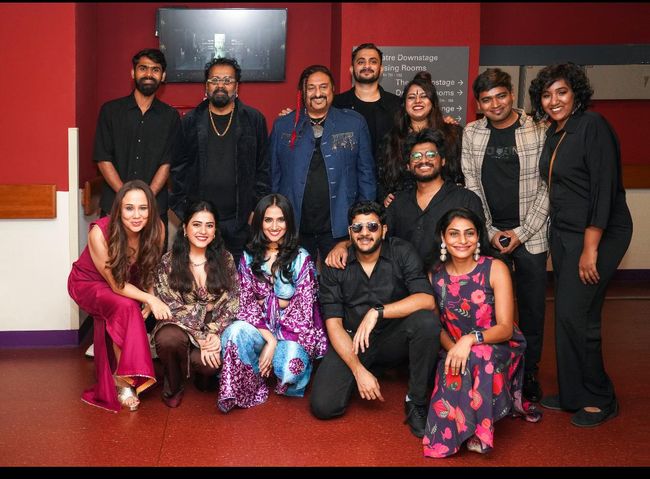 Colonial Cousins band members along with Hariharan and Leslee Lewis ( Top L- 2 /3 ) along with Shweta Asnani, Director, Teamwork Productions (In Maroon) at Esplanade Theatre, Singapore.
The Colonial Cousins' performance was a magical fusion of melodious harmonies showcasing their two-decade-long musical journey and their signature blend of Indian classical, pop, and world music. The duo mesmerized the audience with their timeless hits, transporting them on a musical odyssey through a myriad of emotions.
Hariharan's soul-stirring vocals and Leslee Lewis' exceptional musical prowess created an atmosphere that left the audience spellbound. The Esplanade Theatre, renowned for its acoustics and grandeur, provided the perfect backdrop for this musical extravaganza. The Colonial Cousins' concert at Esplanade Theatre will be remembered as a night of musical brilliance and a celebration of timeless artistry. The event brought together music enthusiasts, fans, and connoisseurs of all ages, uniting them in their love for World music.
Shweta Asnani, Director of Teamwork Productions, shared her enthusiasm, saying, "We are delighted to have had the privilege of presenting the Colonial Cousins in Singapore. Their performance was nothing short of extraordinary, and it was heartwarming to witness the audience's overwhelming response. We are committed to continuing our tradition of delivering exceptional live experiences."
The next on the chart by the production house will be Ghazals (a form of poetic expression in Urdu and Persian literature) show by legendary Ustad Ghulam Ali- Three Generations One One Stage Heritage Series. The show will be held on the 23 September 2023 at the Capitol Theatre in Singapore.
Javed Ali the singer known for his popular songs such as Srivalli, Jashn-E-Bahaaraa (Jodhaa Akbar, 2011), Tum Tak (Raanjhanaa, 2013), and Tu Jo Mila (Bajrangi Bhaijaan, 2015) will regale the audience on 12 October 2023 at Esplanade Concert Hall.
About Teamwork Productions
Teamwork Productions is a leading event management company known for curating exceptional experiences through performing arts.This collaboration marked a significant milestone in the entertainment industry, reaffirming Teamworks' commitment to bringing world-class artists to the forefront. For more information, visit https://teamworkarts.com/.
For Media/Alliance contact:
Ganesh S
Director, Mett.AI
ganesh@mettai.world
https://www.mettai.world
Copyright 2023 ACN Newswire. All rights reserved. (via SEAPRWire)