NeutraDC, a brand of PT Telkom Data Ekosistem, has entered an MOU with NAVER Cloud and Cisco to offer advanced, secure cloud solutions and services to businesses in Indonesia, accelerating their opportunity for digital transformation.
Jakarta, Indonesia, Mar 3, 2023 – (ACN Newswire via SEAPRWire.com) – NeutraDC, a brand of PT Telkom Data Ekosistem (TDE), entered a Memorandum of Understanding (MOU) with NAVER Cloud and Cisco to accelerate the digital transformation of businesses in Indonesia by providing them with advanced cloud solutions and services.
Businesses in Indonesia will benefit from the collaboration as NAVER Cloud and Cisco provide reliable, secure, and efficient cloud-based services. The MOU enables all parties to leverage TDE's local knowledge and data centre infrastructure to deliver reliable and secure cloud services to businesses in Indonesia.
NeutraDC offers a pathway for international companies to access Indonesia's eyeballs and digital economy. A hub for TDE's data centre resources in Indonesia, NeutraDC offers a robust digital ecosystem where any party, including hyperscale players supported by Telkom Indonesia, can tap integrated digital infrastructure with comprehensive network connectivity.
Spokesperson Quotations
NeutraDC
"We are happy to have NAVER Cloud & Cisco to support our flagship hyperscale data centre in Cikarang, Indonesia. The MOU will promote collaboration and knowledge-sharing between the three companies, which will result in developing talent and skills in cloud computing in Indonesia," remarked Andreuw Th.A.F, Chief Executive Officer, Telkom Data Ekosistem (NeutraDC). "The benefit to local companies in Indonesia is enhanced agility, scalability, and cost efficiency to better compete in the digital economy."
NAVER Cloud
"NAVER Cloud is proud to bring our knowledge and experience in cloud technology to the Indonesian market in collaboration with PT Telkom and Cisco. This partnership will help to drive innovation and deliver the benefits of cloud technology to businesses and consumers in Indonesia," said Weongi Park, CEO of APAC Development at NAVER Cloud.
Cisco
"At Cisco, partnerships are at the heart of everything that we do, which is why we are excited to be working with NAVER Cloud and PT Telkom on this innovative venture. With their unparalleled industry expertise and our cutting-edge technology, we believe we can offer a premier telco cloud solution to Indonesia, driving economic growth to new levels," said Sanjay.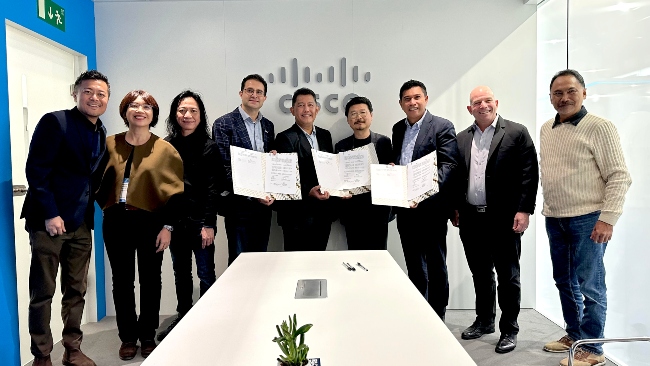 Left to right:
Michael Hu, Chief Commercial Officer, Telkom Data Ekosistem (NeutraDC)
Meygin Agustina, Director, Service Provider, Indonesia, Cisco
Abdi Negara Nurdin, Independent Commissioner, Telkom Indonesia
Sanjay Kaul, President, Service Provider, Asia Pacific and Japan, Cisco
Bogi Witjaksono, Director of Wholesale & International Service, Telkom Indonesia
Weongi Park, CEO of APAC Development at NAVER Cloud
Andreuw Th.A.F, Chief Executive Officer, Telkom Data Ekosistem (NeutraDC)
Dave West, President, Asia Pacific and Japan and Greater China, Cisco
Rizal Mallarangeng, Commissioner, Telkom Indonesia
About NeutraDC
NeutraDC, a brand of PT Telkom Data Ekosistem (direct subsidiary of Telkom Indonesia) offers modular, scalable and carrier neutral data centres which are backed by the Group's telco infrastructure including network connectivity and submarine cables for seamless connectivity from Indonesia to the rest of the world. After our data centre consolidation exercise in mid-2023, NeutraDC's resources will include 28 data centres consisting of 5 global data centres and 3 Enterprise Data Centres (Sentul, Serpong, and Surabaya) with Tier 3 and 4 classifications, 1 Hyperscale Data Centre (Cikarang) that has global standards certified by Uptime Tier III & Tier IV for global players, along with 19 neuCentrIX located in various cities in Indonesia as well as global data centres in Singapore. We offer a reliable gateway and direct access to one of Southeast Asia's largest and fastest-growing digital economies, helping businesses to tap into Indonesia's 171 million digital users and enterprises. Visit neutradc.com for more information.
About NAVER Cloud
For over a decade, NAVER Cloud has been a leading cloud service provider in Korea, offering IT development and cloud services. In 2017, the NAVER Cloud Platform was launched, providing a public cloud service open to everyone. Currently, NAVER Cloud offers over 220 products, including IaaS, SaaS, PaaS, AIaaS, and CaaS, which cover application, data, runtime, and API tools, as well as middleware, platforms, operating systems, virtualization, servers, storage, network services, and hyperscale AI services. NAVER Cloud has expanded its offerings to cater to the public, financial, and enterprise cloud markets, and in August 2020, it launched Neurocloud as its CaaS. This hybrid cloud offers private data centre racks for enterprises, providing higher levels of security and efficient management. https://micro.ncloud.com/sea/en/
About Cisco
Cisco (Nasdaq: CSCO) is the worldwide leader in technology that powers the Internet. Cisco inspires new possibilities by reimagining your applications, securing your data, transforming your infrastructure, and empowering your teams for a global and inclusive future. Discover more at newsroom.cisco.com and follow us on Twitter at @Cisco.
Copyright © 2023 Cisco and/or its affiliates. All rights reserved. Cisco and the Cisco logo are trademarks or registered trademarks of Cisco and/or its affiliates in the U.S. and other countries. To view a list of Cisco trademarks, go to: www.cisco.com/go/trademarks. Third-party trademarks mentioned in this document are the property of their respective owners. The use of the word partner does not imply a partnership relationship between Cisco and any other company. This document is Cisco Public Information.
RSS Feed for Cisco: https://newsroom.cisco.com/rss-feeds
MEDIA CONTACTS
For NeutraDC:
Pinpoint PR Pte. Ltd.
Singapore: Illka Gobius, WhatsApp/Telegram: +65 9769 8370, email illka@pinpointpr.sg
Jakarta: Windy Oktaviani, WhatsApp/Telegram +62 811-9109-266, email windy@pinpointpr.sg
Copyright 2023 ACN Newswire. All rights reserved. (via SEAPRWire)