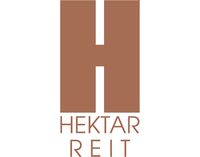 KUALA LUMPUR, Jul 27, 2023 – (ACN Newswire via SEAPRWire.com) – Hektar Asset Management Sdn Bhd, the Manager for Hektar Real Estate Investment Trust ("Hektar REIT") has been awarded "Company of the Year – Best in Sustainability Reporting & Community Support" under the category of Retail Management at the Sustainability & CSR Malaysia Awards 2023 held last night at Mandarin Oriental Hotel, Kuala Lumpur.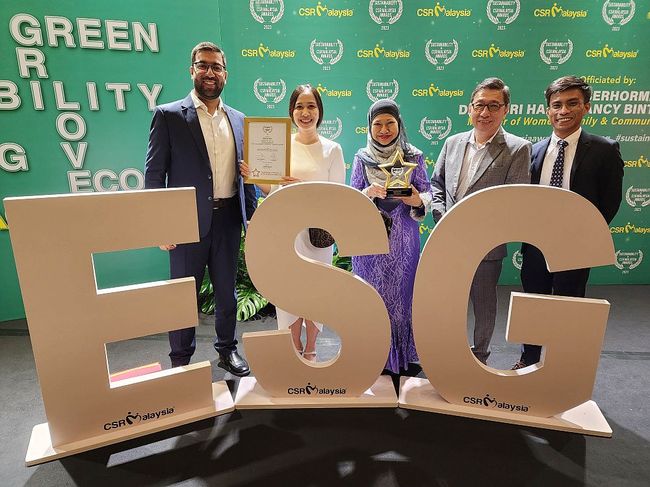 1. Mr. Muhammad Bakhtiar Ul Haq (Asst Manager, Investor Relations, ESG & Special Projects);
2. Pn. Sabrina Halim (General Manager, Business Development & Strategy); 3. Pn. Zarina Halim,
(Chief Corporate Officer); 4. Mr. Lim Kek Siang (Senior General Manager, Finance);
5. Mr. Muhammad Fahmi Bin Rasni (Senior Manager, Business Development & Strategy) [L-R]
The Sustainability & CSR Malaysia Awards 2023, which was officiated by the Minister of Women, Family & Community Development, YB Dato' Sri Hajah Nancy Shukri, is organised by CSR Malaysia, a publication and social initiative under the auspices of the Malaysian Welfare Society for Corporate Sustainability & Responsibility, which is the national organisation for sustainability in the country. Several nominations were received for the various categories, with awardees judged by a distinguished panel of judges drawn from the media and the Malaysian Welfare Society for Corporate Sustainability & Responsibility.
Hektar REIT is proud to announce that it has been honoured with this highly acclaimed award for its unwavering dedication to Corporate Social Responsibility (CSR) and Sustainability practices. The recognition highlights Hektar REIT's exceptional efforts in contributing towards the people and the environment. The company embraces its responsibility to create shared value for all stakeholders, including tenants, employees, shareholders and the surrounding communities. Through extensive CSR programs, Hektar REIT consistently engages in activities that have fostered strong partnerships with local communities and institutions to drive impactful social change. By investing in the community, Hektar REIT has continued to play a pivotal role in improving and enriching the lives of communities surrounding the areas at which our malls operate.
Executive Director & Chief Executive Officer of Hektar Asset Management Sdn. Bhd. ("Hektar Asset Management"), En. Johari Shukri Jamil said "As we navigate the changing landscapes of business, one thing remains clear: Our responsibility goes beyond quarterly profits and shareholder value. Sustainability and corporate social responsibility (CSR) are central to who we are and how we operate. We must view our work through the lens of sustainability, not as a separate initiative, but as an intrinsic element of all our decisions and actions. We are committed to a world where our CSR efforts are a reflection of our respect for the planet, our community, and future generations. We are committed to business growth, enhancing the value for our unitholders, and positively impacting the world around us."
He said, "It is immensely gratifying to have these efforts recognised by the Sustainability & CSR Malaysia Awards. This serves as both an honour and an inspiration for us to keep pushing the boundaries of what we can achieve in the realms of sustainability and community support."
The awards are a testament to Hektar REIT's industry-leading initiatives and its unwavering commitment to sustainability and CSR. This recognition will further cement Hektar REIT's reputation as a socially responsible company that is actively contributing to a more sustainable future.
Hektar REIT: http://www.hektarreit.com/
Copyright 2023 ACN Newswire. All rights reserved. (via SEAPRWire)