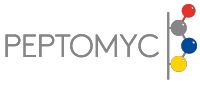 BARCELONA, Jul 28, 2023 – (ACN Newswire via SEAPRWire.com) – Peptomyc S.L., a biotech company specialized in the development of protein therapeutics for cancer treatment, announces that it has received full study approval for its new Phase 1b clinical trial, which will evaluate the combination of the first-in-class MYC inhibitor, OMO103, together with the standard of care (SoC) regimen Gemcitabine and Nab-Paclitaxel in metastatic Pancreatic Ductal Adenocarcinoma (PDAC) patients in first line. PDAC is the most common form of pancreatic cancer. Currently, it is the fourth highest cause of cancer mortality worldwide and its incidence is rising steeply. Current therapies offer limited chance of a lasting cure and the five-year survival rate is one of the lowest among the most commonly occurring cancers.
MYC is an oncoprotein deregulated in most -if not all- types of cancers. It is activated in many PDAC cases, where it contributes to aggressiveness of the disease and resistance to treatments. The company recently completed a FIH Phase 1 study of OMO103 in all-comers solid tumor patients, demonstrating excellent safety and promising anti-tumor activity.
Manuela Niewel, MD, PhD, Chief Medical Officer of the company, leading Peptomyc's clinical development, regulatory and medical affairs activities, says: "I am excited to be able to start our new Phase 1b study in PDAC patients. With OMO-103, we hope to address this devastating disease and one of the highest unmet medical needs in the oncology field".
This Phase 1b combination study will be conducted in four sites in Spain. The lead PI will be Dr. Teresa Macarulla at the Vall d'Hebron Institute of Oncology in Barcelona, and she will collaborate with Dr. Andres Munoz at the Hospital Gregorio Maranon in Madrid, Dr. Mariona Calvo at the ICO-Hospitalet in Barcelona, and Dr. Roberto Pazo at the Hospital Miguel Servet in Zaragoza. The study is planned to start in Q3/2023.
About Peptomyc
Peptomyc (www.peptomyc.com) is a spin-off from VHIO – the Vall d'Hebron Institute of Oncology – and ICREA – the Catalan Institute of Research and Advanced Studies – founded in December 2014 in Barcelona, Spain. The company is focused on the development of innovative cell penetrating peptides (CPPs) targeting the Myc oncoprotein for cancer treatment and based on Dr. Soucek's scientific research in Omomyc (the best direct Myc inhibitor known to date) over the last twenty years. It is the first company to have successfully completed a Phase I clinical trial with a direct MYC inhibitor.
Contact Information
Laura Soucek
CEO
lsoucek@peptomyc.com
+34695207869
Copyright 2023 ACN Newswire. All rights reserved. (via SEAPRWire)