TOKYO, Apr 10, 2023 – (JCN Newswire via SEAPRWire.com) – Mitsubishi Corporation (MC) is pleased to announce that MC and other project sponsors signed a 692 million USD financing package for the Monsoon cross-border wind power project in Laos with the Asian Development Bank, Japan International Cooperation Agency, Sumitomo Mitsui Banking Corporation, and other lenders. As MC announced in its press release in June 2021, MC is involved in the project via investment through its wholly owned subsidiary Diamond Generating Asia, Limited*. Once the wind farm has been constructed, it will sell electricity to Vietnam's state-owned electric power company (Vietnam Electricity) under a 25-year power purchase agreement.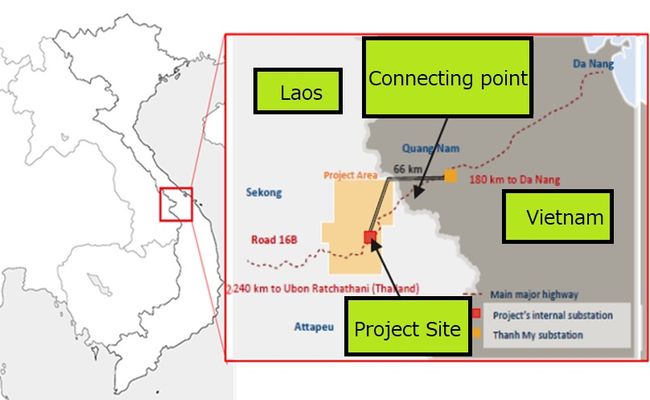 Project Site

Investment Structure
The Monsoon Wind Power Project is situated in southern Laos, and when completed will boast the largest installed capacity of any wind farm in Southeast Asia. In addition to being the first cross-border renewable energy project in the ASEAN region, it will play a central role in the plan shared by the governments of Vietnam and Laos to transmit 5,000 megawatts of electricity from Laos to Vietnam by 2030.
1. Significance for Vietnam
Vietnam is working to balance its climate actions with measures to ease energy constraints. Having set a target to curb the country's carbon emissions by 27% by 2030, the Vietnamese government has made increasing the use of wind and other renewables part of its 8th national power development plan, which is under preparation. The Monsoon project is considered a key contributor to that plan.
2. Significance for Laos
By partnering on this project, the government of Laos will secure more foreign capital that will aid the country's economic growth and development. Furthermore, in strengthening cross-border power-transmission infrastructure, the Monsoon project should help to raise the average standard of living in Laos.
At MC, our mission is to simultaneously create economic, societal and environmental value, thereby meeting the needs of communities around the world and growing with them in a sustainable fashion. Our latest management plan, "Midterm Corporate Strategy 2024 – Creating MC Shared Value," outlines our intention to promote both digital and energy transformations that can leverage renewables to build new, carbon-neutral industries.
By participating in this project, MC is demonstrating a commitment to climate action, energy stability in Vietnam, and economic development in Laos.
The Monsoon Cross-border Wind Project
(1) Location: Sekong and Attapeu provinces (central southern Laos)
(2) Installed Capacity: 600 megawatts
(3) Power Purchaser: Vietnam Electricity (25-year power purchase agreement)
(4) Schedule: Construction slated for commencement in 2023, with operations to commence in 2025.
*Mitsubishi Corporation Participates in Laos Wind Farm Project (mitsubishicorp.com)
Inquiry Recipient:
Mitsubishi Corporation
Telephone:+81-3-3210-2171
Facsimile:+81-3-5252-7705
Copyright 2023 JCN Newswire. All rights reserved. (via SEAPRWire)